What is Tooth Reconstruction?
Beautiful teeth are a sign of good health and well-being. Damaged, discolored or missing teeth can indicate problems with overall health and self-confidence. Prosthodontists, like Dr. Stone, are dentists who have advanced training in tooth reconstruction, to create teeth that look wonderful and function well.
Tooth reconstruction can involve a single tooth that is chipped and needs repair, or an entire set of teeth, face and jaw that has been damaged by trauma. Our ability to chew, speak, swallow allows us to have a high quality of life and to feel confident about ourselves. The goal of tooth reconstruction is to enhance the quality of life for patients.
Types of Tooth Reconstruction
Inlays and Onlays
Inlays and onlays are similar to the dental fillings that are used to fill a cavity created by damage or decay. Dental fillings are placed directly into the tooth. Inlays and onlays are made from an impression taken of the tooth and then bonded to the tooth. The result is a healthy tooth that looks and feels like the original tooth.
Dental Veneers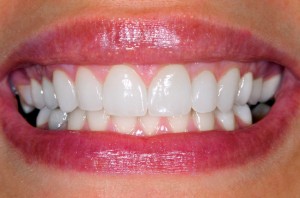 Veneers are thin pieces of porcelain that are bonded directly to a damaged or discolored tooth. They are used to improve the color, shape or size of a tooth.
Dental Implants – Dental Implants are used to replace a single tooth. The implant itself goes into the jaw which stimulates bone growth around the implant. A crown is placed on the implant, creating a tooth that looks so natural, that no one but the person wearing it knows there is an implant in place.
Crowns and Bridges
A crown is a tooth, made from a dental impression, to replace a missing tooth. A bridge is made of two or more crowns that fill in the gaps where one or more teeth are missing. Crowns are made to look like natural teeth and are very long lasting.
Maxillofacial Prosthetics
Maxillofacial Prosthetics treat problems of the head, neck and jaw, as well as tooth restoration. When an injury occurs from trauma, birth defects or illness, a patient may have to work closely with other health care professionals, like surgeons and speech therapists to ensure that the patient has the highest functioning possible of the mouth, jaw and face.
Start With a Consultation
If your smile isn't all that you would like it to be, a consultation is the place to begin, to makes that changes that you would like to see. Tooth restoration can be simple or complex. Talking it over with Dr. Stone will help you decide the best and most realistic treatment to meet your needs and desires.
Dr. Stone is a Prosthodontist with more than 30 years of experience. He teaches Dental Implant techniques to other dentists.
A consultation is FREE. Contact Us if you need more information and to make an appointment for a consultation.
References:
Tooth Restoration http://www.yourdentistryguide.com/tooth-restoration/
Dental Restoration http://en.wikipedia.org/wiki/Dental_restoration
Go to a Pro http://www.gotoapro.org/photos/before–after/
Dental Health and Tooth Restorations http://www.webmd.com/oral-health/guide/tooth-restorations
Prosthodontics http://www.yourdentistryguide.com/prosthodontics/
Dental Health and Tooth Fillings http://www.webmd.com/oral-health/guide/dental-health-fillings
Porcelain Veneers http://www.aacd.com/veneers
General Principles of Maxillofacial Prosthetics http://emedicine.medscape.com/article/846915-overview