Cosmetic Dentures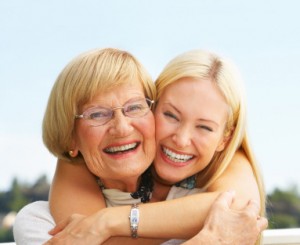 The world of cosmetic dentistry would not be the same were it not for dentures! Not everyone is an ideal candidate for dental implants, so the solution for many – including you – may be dentures.
Dr. Stone's Ft. Lauderdale dental practice is ideally situated to serve the needs of patients throughout South Florida, and with our on-site lab, turnaround for custom dentures and partials is much shorter than other offices that have to ship work to a second party and don't have the same control over the final product. All partials dentures are fabricated here in Ft. Lauderdale, complete dentures are as well.
Call us: 954-568-9100
Contact Us
today for a
FREE consultation
.
The difference between partial and "full" or complete dentures is in the name. Patients with some natural teeth still in good health would be better suited for a partial, with the partial denture clasping onto the teeth still in good condition for a secure fit.
Partials can replace a number of teeth on either of a dental arch. Patients with no teeth or none in good health would need the remaining teeth pulled and a denture fabricated to fit over the gums. Both are less expensive than dental implants but do have some drawbacks.
You may have heard about the "Nonsurgical Facelift with Dentures" – we provide this treatment and you can read more about it here.
If you need information on dentures in the Ft. Lauderdale area, contact us to schedule an initial visit. We can help improve your comfort, lifestyle, & confidence with a beautiful smile!
Contact us if you have a question or to schedule your complimentary consultation!
Contact Us