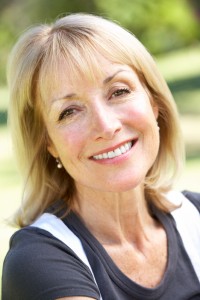 Once you've made the decision that All-on-4 Dental Implants are for you, you may still have questions about the procedure. The more you know, the less anxious and more comfortable you're feel.
The Initial Assessment
A initial assessment consists of a review of your overall health and taking series of x-rays to ensure proper placement of the Dental Implants that will hold the All-on-4s. A treatment plan, to meet your individual needs, will be put into place during the initial assessment.
This is a good time to ask any questions that you may have. Asking questions, and getting answers that make sense to you, ensures that you and the treatment team are on the same page.
An impression may be taken during the initial assessment, so that your temporary All-on-4s can be made.

The Procedure
If you are going to have teeth extracted in order to place the All-on-4s, they may be done the same day that the Dental Implants are placed.
The procedure to place the Dental Implants takes about two hours. The procedure is done while you are sedated, so you will not feel pain or discomfort while the implants are being put into place.
These are the basic steps that occur to place your All-on-4s:
A special tool is used to form a pathway into the jaw to accommodate each implant
The Dental Implant itself, which is a titanium screw, is placed into the pathway
All four implants are placed into either the top arch, the bottom arch, or both, at this point in the procedure
An 'abutment' is placed in each Dental Implant. Each arch will then be fastened to the abutments, to hold the teeth in place
When the procedure is completed, you will be given time to rest before leaving the office. This time also gives the team a chance to make sure your All-on-4s are comfortable and that you understand your oral home care regime. We will also schedule your first follow-up appointment.
Continuing and Follow-Up Care
All-on'4s are sometimes advertised as "teeth in a day." This sounds great, but it's only partly true. You won't have to be without teeth, but the first set of All-on-4s are only temporary. It will take some time, three to six months, for osseointegration to take place, ensuring that your Dental Implants are secure.
During this healing period, you will come into the office for follow-up visits, to make sure that you are doing well and the healing process is proceeding as it should.
When the Dental Implants are secure, your permanent arch, or arches, will be put into place. Good oral hygiene is always important. All-on-4s require the same care as natural teeth, and keeping up with regular check-ups should remain part of your personal health regime.
Our staff is available to answer questions and to schedule appointments when you are ready to visit the office.
About Dr. John C. Stone, DDS
Dr. Stone teaches dental implant therapy to dentists in two different locations: Atlantic Coast Dental Research Clinic at Palm Beach College and Broward Dental Research Clinic at Broward College.  He is a specialist in tooth replacement, a Prosthodontist, and has been placing dental implants surgically since 1975.