About Botox, Restylane, Perlane, Juvéderm®, Dysport®, Facial Rejuvenation, and Dermal Fillers
A youthful appearance is the best thing you can wear.  Our team's expertise doesn't end at cosmetic dentistry, we can also fulfill other facial rejuvenation needs. After all, as you age, your skin changes and in the process, so does your face and your smile. What we affectionately call "age" and "laugh" lines, can be smoothed and blended with a variety of injectable dermal fillers right in the comfort of our office in Ft. Lauderdale. BOTOX®, Restylane®, JUVÉDERM®, and Dysport® offer outstanding results you should consider. Talk to our office specialist to see if either one can benefit you.
Contact us
for a FREE consultation and more information about facial rejuvenation and dermal fillers.
What Do These Procedures Do?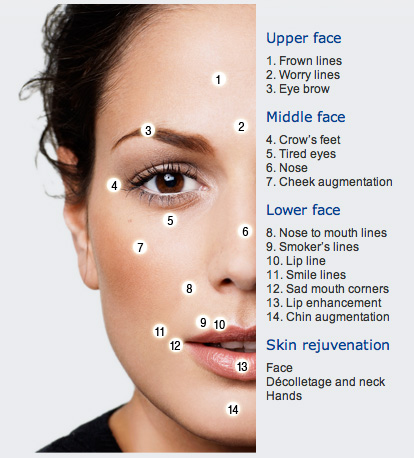 The explanation is really simple, each makes you look younger and refreshed by filling in or reducing the appearance of lines and wrinkles in its own unique way.
BOTOX® is one of the most widely known facial rejuvenation injectables. It relaxes the muscles in the face, especially in the frown lines in the brows and forehead. It is injected into the muscles and results can last up to 4 months.
Restylane® uses HA (hyaluronic acid) to replace lost volume and restore youthful contours to smooth away moderate facial wrinkles and folds, such as the lines from your nose to the corners of your mouth. What it doesn't do is just as important. It doesn't make you look "overdone", you'll still look like yourself … just rejuvenated.
The Restylane® Regimen is the way to ensure that you get the most from your treatments. Restylane® can continue to provide results up to 18 months after the initial treatment, when patients return for follow-up treatment at 4.5 months.
JUVÉDERM® also uses HA (hyalurnic acid). It's an injectable gel, dermal filler approved to last up to a year. As a result of its innovative manufacturing, JUVÉDERM® has a uniquely smooth gel property.
Who Should Get BOTOX® or Other Facial Rejuvenation Treatments?
Really anyone – male or female — who is in good medical health, and without a history of allergies, who wants to reduce the appearance of lines and wrinkles around his or her brows, forehead, mouth, or nose. Talk to our specialists about any questions you may have about these facial rejuvenation and dermal filler treatments.
Contact us if you have a question or to schedule your complimentary consultation!
Contact Us