Crowns and Bridges in Ft. Lauderdale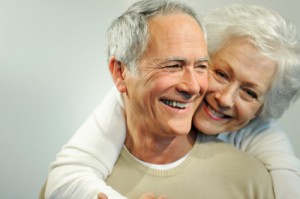 Missing teeth can be upsetting — we understand. After 30 years, Dr. Stone continues to improve the smiles of south Florida residents in and around Ft. Lauderdale.
Dr. Stone is a prosthodontist – an American Dental Association recognized specialist in crowns and bridges. Dental crowns and bridges are just two of the many treatments types that Dr. Stone offers to meet all patients' cosmetic dentistry and health needs. If you are a candidate for a dental crown or bridge, we would be happy to assist you in turning your mouth into something you can smile about once again.
Dental crowns, also called caps, are placed over existing teeth that are no longer structurally sound, thus allowing you to restore your natural teeth rather than replace them. Crowns can also be used along with dental implants. A crown can be a very long lasting treatment investment.
A bridge, unlike a cap, fills the spot of an already missing tooth and is anchored in place, or "bridged," between two existing teeth. You will be able to easily chew food once again without worrying about a gap or sensitive area, and words will flow and sound as naturally as they ever have. Chewing is the first stage of digestion, it is important in our every day health needs.
Our Ft. Lauderdale dental office is experienced in both fabrication of dental crowns and bridges with our in-house lab, and treatment is completely customized for both comfort and aesthetics. Quality is assured by taking a mold of your mouth and combining that with advanced dental technology and software. Our in-house lab creates the dental crown or bridge to Dr. Stone's exact specifications, cutting wait time for patients and allowing our team to maintain complete quality control in house.
To achieve a perfect, realistic look, the bridge or crown is matched to the exact shade of the existing teeth that surround it. If you are interested in Ft. Lauderdale dental crowns or bridges or want more information contact us to request an appointment and set up your free consultation.
Contact us if you have a question or to schedule your complimentary consultation!
Contact Us