There has been a lot of discussion recently regarding a dentist placing dental implants and the patient receiving teeth in a day.
There are several coined phrases such as "dental implants in one day", "immediate load", "teeth in a day", "teeth in an hour", "all on four" etc. There is some truth about this and usually this treatment works well.
The process is to determine whether or not there is room for implants. This means certain x-rays need to be taken, sometimes a panorex type, sometimes a CT or CBCT scan. After determining that there is appropriate bone to place implants, we need to determine where the final teeth are going to be.
The patient is anesthetized, the implants are placed, the placement of the teeth is confirmed, and acrylic teeth are attached to the implants using screws. The patient ends up with an acrylic, implant retained, temporary restoration that is screwed onto the implants.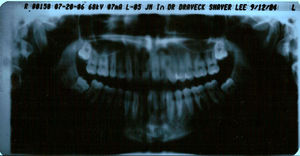 After a period of healing, usually 6 months, a new restoration is made that has a metal support bar inside it and therefore can be strong and hold more teeth. These "teeth in a day" restorations are very esthetic, are non-removable by the patient but can be removed by the dentist, and can potentially last many years.
Conventionally what had been done, was essentially the same work-up of the patient by the dentist, only instead of screwing the temporary restoration onto the implants immediately, a denture was worn for 4-6 months with the implants buried so that they may heal. When the implants were ready to be restored, the same screw-on restoration can be made, or, conventional porcelain fused to metal restorations can be made, just like a dentist would make for natural teeth.
I believe that the success rate for this conventional procedure is slightly higher than the immediate placement procedure, and because there are less parts and less time it is usually less expensive.
Some people and some dentists believe that the porcelain fused to metal restoration is more esthetic; however it is definitely more costly. The acrylic based, screwed-on restoration, commonly referred to as a hybrid, is easier to repair but can wear out over time.
I am happy to recommend Dr. Stone. He is the best dentist of many I have endured. He is honest, wise, charming, his advice is always thoughtful and right. My implants are wonderful!"
-Marion G. Wells, August 10, 2014
The good news is that it is relatively easy to replace the teeth using the same metal bar restoration. If the porcelain fused to metal bridge has a problem, it could mean that all of the porcelain would need to be replaced which is usually a more time consuming procedure and certainly is more costly.
All of these options should be brought to the attention of the patient, and all of the possible scenarios should be discussed with the patient. I have been involved with dental implants for over 30 years and I teach dentists how to place and restore dental implants. We do the restoration and the surgery here in one office. Some offices do the restoration and send the patient somewhere else for the surgery.

There are some advertising campaigns designed to entice patients to the hybrid type of treatment at a reasonable cost. We do this same type of treatment, plus the other porcelain fused to metal treatment, which they do not do. Additionally, although some offices do not, we offer the benefit of performing both the restoration and surgery at our Ft. Lauderdale location.
If you are considering dental implants in fort lauderdale and teeth in a day, we encourage you to take a look at our before and after gallery, and contact us for a FREE dental implant consultation.
– John C. Stone, DDS, Cosmetic Dentist, Ft. Lauderdale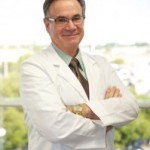 Dr. Stone
teaches dental implant therapy to dentists in two different locations: Atlantic Coast Dental Research Clinic at Palm Beach College and Broward Dental Research Clinic at Broward College. He is a specialist in tooth replacement, a Prosthodontist, and has been placing
dental implants
surgically since 1991.