The Best of Both Worlds: All-on-4 Dental Implants Cost and Procedure
All-on-4s give you the look and feel of natural teeth with the stability of fixed implants.
Ordinary dentures sit on top of your gums without stimulating bone growth underneath. When they slip, they create sores and cause discomfort. All-on-4 implants are securely fixed and they can last a lifetime. You might not have considered them in the past because of their cost, but you may be surprised what All-on-4 dental implants cost.
The "sunken look" that happens with dentures is due to the loss of bone density in the jaw. When dental implants are put into place to anchor your All-on-4s, the jawbone grows new bone around the implant through a process called osseointegration.
Osseointegration not only keeps your implants secure, but it also fills out the part of the jaw that would have "sunken" without the support of the bone. All-on-4s combine the security and health benefits of dental implants with the cost effectiveness of dentures.
The All-on-4 procedure
All-on-4s are a versatile solution if you have many damaged or missing teeth. They can be placed just on the top arch of the mouth, just on the bottom, or on both. Four single implants are placed on each arch, and the denture is secured to the four implants.
Osseointegration takes a few weeks to form around the implant, but you won't be without teeth during the waiting period. A temporary set of dentures will be made for you to wear until the implants are fully integrated. When the dental implants are secure, your permanent dentures are ready to be placed.
What do All-on-4 Dental Implants cost?
The Dental Implant Cost Guide suggests, on average, All-on-4 dental implants cost $34,000 for the entire procedure.
But you should talk to your prosthodontist before you make any decision. In this case, one size doesn't fit all. Prices vary considerably depending on what materials are used, what additional procedures are required, and what city you live in. Don't rule something out that might just be the right answer for you.
While we understand this is a considerable cost, 94 percent of those who choose All-on-4 implants report they are highly satisfied with the outcome. You're making a long-term investment in your oral health, and the money you save by possibly never needing another dental procedure may make All-on-4s cheaper in the long run.
The advantage of All-on-4s
Here are a few of the advantages All-on-4s have over dentures:
| | |
| --- | --- |
| All-on-4s | Dentures |
| Anchored in place by dental implants | Slip and slide; because of this they can cause sores and irritation |
| Feel like natural teeth | Can feel awkward as a result of the upper denture plate that covers the palate |
| No adhesive needed | Adhesive needed |
| Implants stimulate bone growth | Bone loss which leads to sunken facial features |
| Able to eat and drink, similarly to natural teeth | Can interfere with proper chewing, taste and speech, especially if not fitted properly |
| Care is the same as for natural teeth | Must be removed for care |
| Can last a lifetime with proper care | May need to be redone because of change in jaw structure |
| No special cleaners needed | Cost of cleaners and adhesives add to cost of dentures, especially over time |

The perfect fit, the right price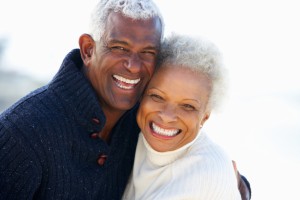 Dr. Stone is an expert at making and fitting perfect All-on-4 dentures. Our on-site laboratory helps lower the cost of All-on-4s and ensures that you get the most beautiful and comfortable teeth possible.
Getting All-on-4s is an investment in your appearance and your overall health. It's important to work with a prosthodontist like Dr. Stone who has the aesthetic sensibility, experience, and skill to give you a perfect smile.
Prosthodontists go through an additional three years of education to practice in their field. They really are the experts when it comes to bridges, crowns, dentures, and implants. You should find someone who's going to do your work right the first time.
Dental insurance plans vary in what they are willing to pay toward dental implants, but more are paying today than in the past because it's become more apparent how much better implants are for your health. At Dr. Stone's, we also work with CareCredit to help patients who need additional financial assistance by allowing them to pay off their procedures over time. Dr. Stone and his staff will work closely with you, helping you figure out what works for you.
Are All-on-4 dental implants right for you?
At Dr. Stone's practice, we offer complimentary consultations to new and prospective patients. We believe the information you need to make your oral-health decisions should be free, so we'll never charge you to come in and begin the conversation. Dr. Stone has been practicing for over thirty years and would love to help you choose the best option for you. Schedule your appointment today.
I am happy to recommend Dr. Stone. He is the best dentist of many I have endured. He is honest, wise, charming, his advice is always thoughtful and right. My implants are wonderful!"
-Marion G. Wells, August 10, 2014