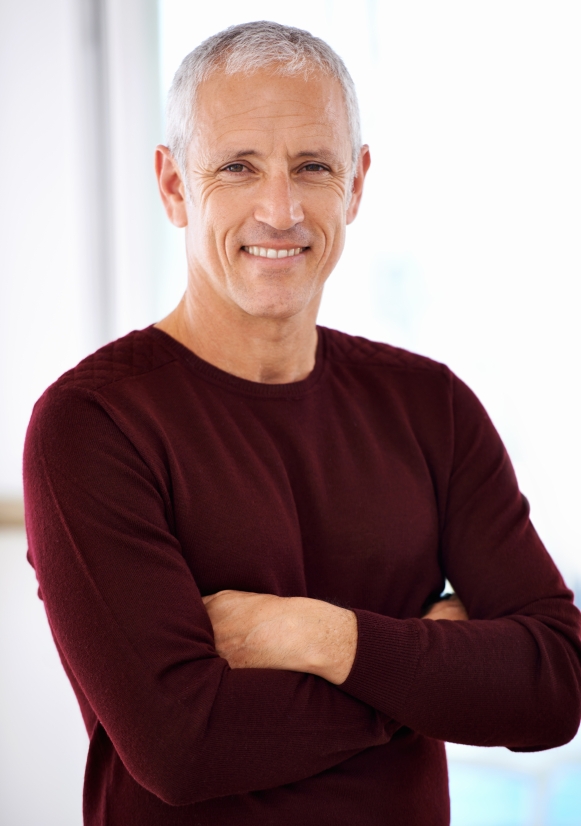 The reviews are in; Dr. John Stone is the best in town. If you need dental implants, you don't want the second best; you need the best. We know there's conflicting information out there about where to go. Don't just take our word for it, but listen to what our happy patients are saying. Here are just a few recent dental implant reviews for Dr. Stone:
★★★★★ Dr. Stone has been my Dentist for the past 20 years. He is an excellent dentist and I don't even live in the same city as his office but would never consider switching dentists just to be closer to where I live. His staff are great as well as his hygienist." – Michele Eve Sandberg, July 2019
★★★★★ Dr. Stone and his staff have been one of the BEST Drs. offices I have been to! They Never keep you waiting like some other Drs. I have been to and you always leave feeling that you received the BEST CARE! I highly recommend Dr. Stone along with his well trained staff! He definitely has given me my SMILE back! Many thanks!" – Dorrie Evans, June 2019
★★★★★ Great team. Very professional. Quick to answer ALL questions. Clean, very clean. Nice, respectful and honest to all questions, Dr. Stone was an absolute nice. His mannerisms and friendliness make the dental treatment experience more enjoyable and I am relaxed in his presence. The experience of two implants and six crowns took some time, but it has been well worth everything as I feel so good about my smile." – Louis Johnson, March 2019
★★★★★ I have been a patient of Dr. Stone for 30+ years now. He has done several crowns and bridges for me and I have found him to a true professional in every sense of the word. I have received compliments on the cosmetic work he has done, and his staff does everything possible to accommodate me. I highly recommend him. – Michael Easler, April 2019
What the reviews say
People are traveling from far and wide to make it to Dr. Stone's practice, and they aren't switching once they've been here once. It takes something special to have clients for twenty to thirty years; that type of rapport doesn't happen overnight!
Dr. Stone has everything, from personal care to professional expertise to a diligent and informed staff team. If you need your smile back, come get the best dentist in town to place your new dental implants.
Check our facts
If you have Google maps or yelp, it's easy to check your facts. See for yourself; we've got nothing to hide. It's public information that we're doing a great job.
If you're a business owner or if you look up your favorite restaurant, you know how hard it is to maintain four stars, and we're talking about a dentist here!
Take some time yourself reading through more reviews, but know that everyone's going to have a different experience. Don't rule someone out based on one poor review. Try to determine if you're more like the person who wrote the one-star review or the person who wrote the five-star.
More about Dr. Stone
Dr. Stone has been placing dental implants since 1991. When he's not practicing, he's teaching dental implant techniques to other dentists at two colleges in South Florida. He also works meticulously with the technicians in our onsite laboratory to ensure your new teeth are just right.
About Dr. John C. Stone, DDS
Dr. Stone teaches dental implant therapy to dentists in two different locations: Atlantic Coast Dental Research Clinic at Palm Beach College and Broward Dental Research Clinic at Broward College. He is a specialist in tooth replacement, a Prosthodontist, and has been placing dental implants surgically since 1991.
His education has brought him up and down the east coast with residencies at the Long Island Jewish Hospital and a specialized prosthodontic residency at the Medical College of Georgia. You're going to have to look pretty far to find anyone who has anything like these credentials!
Dr. Stone is an active member of his Ft. Lauderdale community. It's not only the dental community that's impressed by his work. Here's an article from the City Limits Network.
Get a free consultation
At Dr. Stone's practice, we offer complimentary consultations to new and prospective patients. We think that the information you need to make your oral-health decisions should be free, so we'll never charge you to come in and talk through things.
All the reviews in the world don't compare to your own experience. You should stop by and start the conversation. Dr. Stone has been practicing for over thirty years, and would love to help you figure out what's right for you. Schedule your appointment today.
I am happy to recommend Dr. Stone. He is the best dentist of many I have endured. He is honest, wise, charming, his advice is always thoughtful and right. My implants are wonderful!" – Marion G. Wells, August, 2014