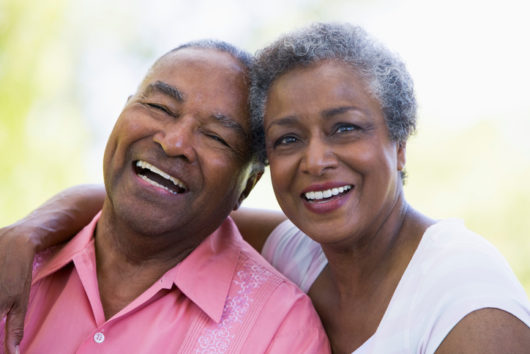 Full mouth dental implants (also known as all-on-4 dental implants) are a more permanent tooth replacement option than conventional dentures. Unlike dentures, full mouth dental implants aren't removable and won't feel uncomfortable in the mouth. Things to consider when deciding whether or not the get full mouth dental implants include the cost, long-term satisfaction and pain involved during the procedure.
What Do All-on-4 Implants Cost and Satisfaction Rate?
According to reviews on the medical review website Realself, the average cost for full mouth dental implants is approximately $28,400. This figure seems to be a reasonably good estimate, as many Americans who got all-on-4's listed prices ranges between $20,000-$35,000.
And while the cost of the procedure might seem high, reviewers on the website still list a 96% satisfaction rate after getting full mouth dental implants. The high satisfaction rate speaks for itself. Although all-on-4's aren't a cheap tooth replacement option, most patients don't place a price on their dental health and overall quality of life.
Is Getting Dental Implants Painful?
Contrary to what you might expect, getting dental implants shouldn't be painful. If your dentist is experienced and performs the procedure correctly, regular over-the-counter painkillers should be enough to numb any pain you might experience.
However, there's no way to know for sure how much pain you would experience during the procedure. While some patients barely experience any pain at all, others prefer to take painkillers a few days after getting dental implants. But if everything went well, your pain should only be slight and last anywhere from a few days to a week after getting implants. Should you feel concerned about pain you experience after the procedure, it's always best to call your dentist to find out if it's normal.
Keep in mind, an important part in making the procedure go down as painlessly as possible is choosing a dentist who's experienced in placing dental implants. Seeing a dental implant specialist should also help to put you at ease.
How Long Do Dental Implants Last?
In most cases, dental implants last a lifetime without giving any issues. That's because your dental implants fuse to the bone tissue in your jaw through a process called osseointegration. So while regular restorative dental work (like fillings, crowns and dental bridges) rely on dental glue to hold the work in place, dental implants rely on your body's own tissues to help keep the implant in place.
Once again, choosing your dentist wisely is essential if you want your dental implant procedure to be a success. Always ask for before and after pictures of previous patients, or ask if you're able to read unbiased reviews from a dentist's previous patients online. Whatever you do, just be sure you're comfortable with your dentist before undergoing the procedure. Full mouth dental implants should last you a lifetime, so it's not unreasonable to spend at least a few months finding a dentist that's right for you.
Are Implants Better Than Dentures?
Most dentist consider dental implants to be far superior to dentures. There are clear health benefits associated with getting dental implants:
Slows bone deterioration: Whenever you lose one of your teeth, the bone tissue in your jaw in the area surrounding the tooth begins to deteriorate more rapidly. Dental implants prevent this from happening by stimulating bone growth in a similar way your natural tooth root would.
Better chewing: For some people getting dentures seems like an annoyance, but the dietary changes you go through after getting dentures can have a negative impact on your overall health and nutrition.
Permanency: Unlike dentures, you won't have to remove your full mouth dental implants while you sleep. While this might seem like a convenient perk rather than a health benefit, wearing dentures while sleeping has been associated with a higher risk of contracting pneumonia.
Prevent mouth infections: Denture wearers are more likely to get mouth infections such as denture stomatitis. That's because dentures have a tendency to be less clean than your natural teeth.
It's clear to see that getting dental implants is a far better option than wearing dentures in most cases. Despite this, there are still instances where getting dentures can be better. It's all up to each individual patient and their specific needs.

References:
https://www.realself.com/all-on-4
http://www.deardoctor.com/inside-the-magazine/issue-30/sleeping-in-dentures/
https://www.dentalhealth.org/tell-me-about/topic/mouth-conditions/denture-stomatitis-thrush