The Importance of Sleep Mouth Guards
Mouth Guards for sleeping are easy-to-use devices that can help prevent serious, even life-threatening problems.
Many mouth guards are sold over-the-counter to protect athletes from mouth and teeth injuries. Some over-the-counter mouth guards that are advertised for the prevention of teeth grinding and jaw pain can actually do more harm than good if they do not fit properly.
The best Mouth Guards for sleeping are devices that are made by a Prosthodontist, who is expert in custom fitting mouth guards for each individual patient's needs.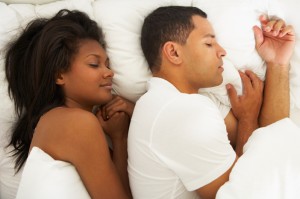 Sleep Mouth Guards are recommended to:
alleviate the symptoms of Obstructive Sleep Apnea (OSA)
prevent teeth grinding
relieve the symptoms of Temporomandibular Joint Disorders (TMJ)
Mouth Guards for Obstructive Sleep Apnea
Sleep apnea is a common disorder, caused by an obstruction of the airway, that can cause shallow breaths or pauses in breathing, during sleep. Snoring or snorting usually occurs when normal breathing resumes, which not only disturbs the person with sleep apnea, but can also disturb the person sharing the bedroom.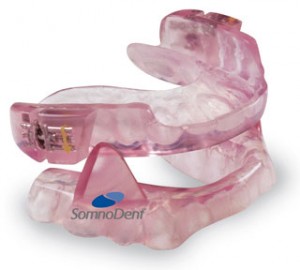 Breathing can be interrupted as often as 100 times a minute. This interruption in sleep is serious and can increase the risk of:
heart attack
stroke
irregular heart rate
high blood pressure
fatigue
obesity
diabetes
increased work-related or auto accidents
A mouth guard, custom made by a Prosthodontist, works to open the airway and prevent airway obstruction.
The two most common types of mouth guards are the:
Mandibular Advancement Device (MAD) that puts the lower jaw in forward position to allow air flow
Tongue Restraining Device (TRD) that helps keep the tongue from falling to the back of the throat
The type of Mouth Guard that is needed depends on the cause of the patient's sleep apnea. The new devices are comfortable, high quality and clinically effective.
Getting the Best Care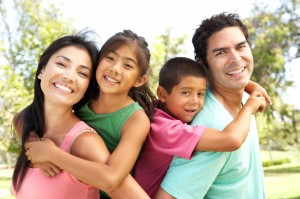 Many patients are embarrassed to tell their doctors or dentists about their snoring or sleep problems, thinking they aren't important. It's often a family member or friend who mentions the problem or encourages the patient to report sleep problems.
Sleep Apnea also affects children whose fatigue may be lead to learning and behavior problems. Mouth Guards for sleep are a safe, comfortable solution for even very young children. Primary Care Physicians work with Prosthodontists and Sleep Disorder Specialists to diagnose and treat Sleep Apnea.
Mouth Guards for Sleep Apnea Are:
easy to use
non-invasive
an alternative to C-pap machines, which are cumbersome and are not tolerated well by many patients
Dr. Stone is a Prosthodontist who is expert at customizing Mouth Guards to get the best possible result for every patient. Our Onsite Laboratory makes the start-to-finish process as simple as possible.
Please Contact Us if you have questions, if you would like more information and to make an appointment.
About Dr. John C. Stone, DDS
Dr. Stone is a Prosthodondist, with over 30 years of experience. He teaches dental implant therapy to dentists in two different locations: Atlantic Coast Dental Research Clinic at Palm Beach College and Broward Dental Research Clinic at Broward College.  He is a specialist in tooth replacement and has been placing dental implants surgically since 1991.
Contact us if you have a question or to
schedule your complimentary consultation!
References:
Mouth Guards http://www.ada.org/en/member-center/oral-health-topics/mouthguards
Types of Athletic Mouth Guards http://www.sportsdentistry.com/mouthguards.html
Practice Parameters for the Treatment of Snoring and Obstructive Sleep Apnea with Oral Appliances: An Update for 2005 http://www.aasmnet.org/resources/practiceparameters/pp_update_oralapplicance.pdf
What is Sleep Apnea? http://www.nhlbi.nih.gov/health/health-topics/topics/sleepapnea/
How is Sleep Apnea Diagnosed? http://www.nhlbi.nih.gov/health/health-topics/topics/sleepapnea/diagnosis.html
Children's Sleep Apnea http://www.sleepapnea.org/treat/childrens-sleep-apnea.html
Mouthguard http://en.wikipedia.org/wiki/Mouthguard
Dental Health Mouth Guards http://www.webmd.com/oral-health/guide/mouth-guards
Bruxism http://www.mayoclinic.org/diseases-conditions/bruxism/basics/preparing-for-your-appointment/con-20029395