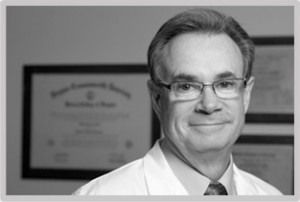 They may not have the same name recognition of an orthodontist or periodontist, but the prosthodontist is the specialist to see to address a variety of dental issues.
The term prosthodontics comes from the same root as "prosthetics" – artificial replacements for body parts; in this case, teeth. A prosthodontist diagnoses dental conditions, then creates and fits dentures, bridges and dental implants to restore or replace decayed, discolored, broken or missing teeth.
Training and education
Prosthodontics is a specialty that requires specialized training. A dentist who has already completed four years of dentistry education will take three more years of graduate courses for prosthodontics.
Once certified, a prosthodontist may collaborate with speech therapists, oral surgeons, oncologists and other specialists to ensure that every patient receives customized and comprehensive care.
The prosthodontist best for you can show you proven results.  Considered by his patients to be one of the best prosthodontists in Fort Lauderdale, Dr. John C. Stone, has been placing implants surgically since 1991.
When to see a prosthodontist
Dental pain.
Problems biting or chewing …or just a smile that could stand some improvement. All are good reasons to consult an experienced prosthodontist.
Medical needs.
Genetics, illness or just the normal process of aging can compromise your health and your smile. A prosthodontist can prescribe and implement maxillofacial prosthetics – treatments for the jaw and face that include TMJ (temporomandibular joint syndrome), cleft palate, and the special dental needs of geriatric patients.
Bite improvement.
Accident, injury or decay can threaten the way you bite and chew, which could cause overall health problems later.  A prosthodontist has the tools and the resources to fix the root causes of the tooth and gum problem, setting the stage for a lifetime of better health.

Cosmetic enhancement.
Many people consult a prosthodontist to change their appearance. Veneers, implants, bridges, crowns and dentures can all serve to fill in the gaps in your smile and help you put your best face forward.
A full-service prosthodontist like Dr. John C. Stone of Ft. Lauderdale is your first stop on the road to better teeth. A free consultation will help you determine the kind of procedure that fits your needs and budget.
Full-service prosthodontics
You want to be sure that your specialist has the resources to make your prosthodontic procedure a complete success. Unlike many other dental practices in Ft. Lauderdale, Dr. John C. Stone's office includes an onsite laboratory, which speeds up the completion of your treatment – in some cases, you'll leave the office with your prosthetics in place the same day!
Learn more
A proven prosthodontist can make a big difference in your life. Contact us and ask for your free consultation.
Contact us if you have a question or to
schedule your complimentary consultation!