Dentures vs Implants: it's a highly personal debate with an outcome that will affect the way you care for your teeth for years to come.
Either procedure, when handled by a trusted Ft.Lauderdale dentist, can provide you with great results – such as an improved smile and an easier time eating. Beyond that, the decision of dentures vs implants – including factors like procedure, cost and upkeep – is one to consider with your dentist and your family.
Dentures vs Implants: The Procedure
Dentures are non-permanent dental appliances. Their creation involves the dentist taking an impression of your mouth, then using the mold to fashion a full or partial plate. The dentures stay in place through a combination of suction from your palate, clasps or clips on adjoining teeth, or an adhesive "grip" solution. Dentures are meant to be removed and soaked daily. They tend to become loose over time and must be replaced. Dentures can greatly improve your appearance. Learn about cosmetic dentures that give the appearance of a facelift here.
Dental implants are a permanent (non-removable) solution to replace cracked, broken or decayed teeth. To create them, the dentist installs titanium posts in your jawbone, then affixes permanent prosthetic teeth. Though the dentist can remove dental implants using surgical tools, you will typically wear these teeth 24/7, as you wood a natural tooth. Our office offers "dental implants in one day" service.
Dentures vs Implants: The Cost
Your insurance and personal finances will largely drive a decision of dentures vs implants, but in general, the upfront cost of dentures is lower than that of implants. However, dentures require daily upkeep that adds up in cleaning supplies.
Dental implants are a surgical procedure, but some insurers are recognizing the long-term value of implants are authorizing this kind of treatment – and implants incur no additional maintenance costs.
Ask your dentist about flexible payment plans and options to ensure you receive the procedure you want and the care you need. Read our "What Do Dental Implants Cost?" blog post here.
Dentures vs Implants: The Upkeep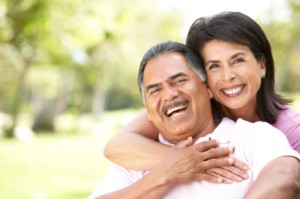 The "teeth in a glass" image of dentures suggests that these removable appliances will take some commitment from you in the form of maintenance. The Mayo Clinic's list of daily care includes:
Removing and rinsing dentures after eating
Cleaning your mouth with a soft toothbrush after removing your dentures
Scrubbing your dentures at least daily with a mild soap or dishwashing liquid
Soaking the dentures in effervescent tablets (known by brand names like Efferdent and Polident) when you sleep.

If all that sounds like a hassle, then implants could be your answer. Implants are not removable, so your daily care will reflect the way you would care for regular teeth: brushing and flossing daily.
The Choice is Yours
Dentures vs implants need not be a difficult choice once you know the details and your options. When you're seeking a better smile and an improved quality of life, you can count on Dr. John C. Stone, a leading cosmetic dentist serving Ft. Lauderdale. Dr. Stone has a specialty degree in Prosthodontics (cosmetic dentistry), is a specialist in tooth replacement,  and has been placing dental implants surgically since 1991.  He currently teaches dental implant therapy (how to place dental implants) to dentists.
Contact Dr. Stone for a free consultation.