Dental caps are usually better known by another name: crowns.
Whatever you call them, this dental device is designed to supplement and strengthen a broken, chipped or decayed tooth. Dentists will prescribe dental caps (also called  "capped teeth") when too much filling would be required to fix decay, if a current filling has worn down the tooth, or if a misshapen tooth needs an all-around restoration.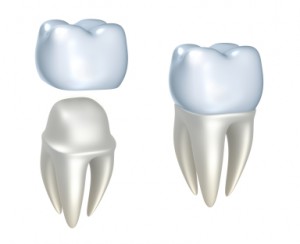 How dental caps work
Caps or crowns cover a partial or missing tooth completely. It's custom-designed to match and fit with your adjoining teeth, and is cemented into place.
Depending on the material you choose, a dental cap can be indistinguishable. For front-facing teeth, for instance, a ceramic porcelain cap has the same color and shape as your other teeth. If your cap is at the back of the mouth where no one sees it, metals like gold are considered a good choice.
Applied correctly by an experienced prosthodontist skilled in cosmetic procedures, a dental cap becomes a solid, working tooth that contributes to a better bite and an improved smile. If you practice good dental hygiene and avoid bad habits like tooth-grinding, your cap may last a lifetime.
What you can expect
Getting a dental cap involves two visits to the dentist. Local anesthesia ensures that every visit is a painless one.
During the first visit, your dentist shapes the tooth that will be capped – a procedure involves building up the tooth at the root so it will bond properly with the crown.
You'll then have an impression made of the tooth area, and a sturdy acrylic temporary crown will be placed. You can wear this temporary safely anywhere from two weeks to three months.
Using the tooth impression, the dental team prepares your permanent cap out of metals or ceramics. At your second visit, the temporary crown will be popped out, and your finished dental crown will be fit to your tooth. Dental cement coating the inside of the crown creates a bond that will stand up to normal wear.
Capped teeth and bridges
Many patients get their crowns one at a time, but sometimes the need for restoration is more complex.
"A bridge is two or more is two or more caps connected together with one or more false teeth in between the caps," says Dr. John C. Stone, a leading Ft. Lauderdale dentist and dental implant specialist. "Some people like to call their removable appliances 'bridges' but they are really partial dentures, but dentists call both types of prostheses 'partial dentures': fixed partial denture or removable partial dentures."
A bridge is two or more is two or more caps connected together with one or more false teeth in between the caps." -Dr. John C. Stone, DDS
Expert dental service
The decision to get a dental cap or crown is not one to take lightly – it's an investment in your overall health, so you'll want to know that your dentist will deliver the best possible service.
Dr. John C. Stone is your choice in Ft. Lauderdale. With more than 30 years of experience in oral surgery, cosmetic procedures and prosthodontics, Dr. Stone is ready to make the process an easy, painless one for you.
Contact Dr. Stone's office to learn more about how dental caps can deliver lifelong benefits.
Contact us if you have a question or to
schedule your complimentary consultation!