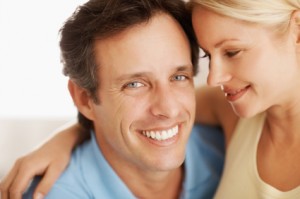 A dental implant replaces your original tooth roots with metal posts that support artificial teeth that look and feel like real teeth. Depending on the condition of your teeth and jaw, you may benefit from a series of implant procedures that ultimately improve your bite, your smile and your overall health.
Only a proven DDS who is also a certified dental implant specialist is qualified to give you advice on the need for and scope of your implant.
But in general, dental implants aid specific conditions, such as:
Missing a tooth. Whether your missing tooth is a result of breakage, age or some other reason, you may wish to fill the gap with a sturdy, realistic-looking replacement.
Getting a crown, bridge or set of dentures. If you want to avoid the "clacking" of loose-fitting dentures or the risk of losing or re-breaking a crown, a dental implant is a good option to support artificial replacements and keep them performing at their best for years to come.
Needing more support for your tooth's roots. A dental implant specialist who detects tooth or root decay before you're aware of it may advise you to choose an implant procedure now to catch small issues before they become painful problems.
You're a good candidate for dental implant procedures if …
you have healthy oral tissue and adequate bone to support a metal implant
have no existing condition that might affect healing
are willing to commit up to several months to complete the implant process

Are There Risks?
All dental surgery carries some risk of infection, nerve damage or sinus reactions, but a proven dental implant specialist will reduce those risks.
You should expect a comprehensive treatment program that includes consultation on the right anesthesia for you; a pre-surgical checklist that ensures you arrive for your procedure fully prepared; and post-op care that ensures you receive safe doses of pain medication and any necessary antibiotics to prevent infection. You'll even find a list of the foods and drinks to avoid during healing.
Living with a Dental Implant
Done correctly, a dental implant will grow into your jawbone – a process known as osseointegration. As the surgical area heals, the implant should begin to feel virtually invisible to you – all you'll know is that you have more control over the affected teeth and jaw.
During and after the procedures, your dental implant specialist sets up a schedule of follow-up appointments to continue monitoring your health and comfort. Any questions or concerns about your implant can be addressed quickly with these one-to-one appointments.
Learn More
Dr. John C. Stone is a leading figure in the Ft. Lauderdale dental community – not only performing dental implant procedures himself but also instructing other dentists how to place and restore implants.
If toothache, jaw problems or other discomfort is ongoing, you may be a good candidate for Dr. Stone's respected team of dental specialists. Contact them for a personal consultation.