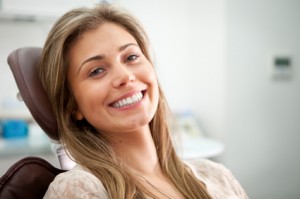 If you're like many people, for much of your life your dental procedures have occurred one-at-a-time or only occasionally – a cavity here, a crown there. In those cases, as-needed reconstructive or restorative services typically address the issue.
But at some point you may find yourself needing a full mouth reconstruction – that is, a complete "rebuild" involving all the teeth, both upper and lower. Depending on the severity of your condition, the full-mouth treatment may involve a series of procedures to place implants or bridges to replace or support your teeth and build strength in your gum tissue.
Full mouth reconstruction can help you achieve a more perfect smile.
What circumstances call for full mouth reconstruction?
Generally, the need for full mouth reconstruction procedures is based on one of four circumstances:
Cosmetic preferences. The color, shape and size of your mouth and teeth can not only affect your bite, they can contribute to your overall appearance. Full mouth reconstruction can help you achieve a more perfect smile.
Sudden, traumatic injury. An auto accident, activity-related mishap or other unexpected trauma can permanently change the form and function of your bite. Left untreated or improperly addressed, broken or fractured teeth may escalate to infection that spreads to the rest of your body.
Chronic health issue. Gum disease or Temporomandibular disorder (TMD) – that annoying and sometimes painful "clicking" of the jaw when you speak or chew – are two examples of a chronic condition that full mouth reconstruction may address. A bite correction may alleviate common symptoms of chronic conditions like headache and jaw pain.
Normal aging process or long-term neglect. Over the years, the effects of bad habits like teeth-grinding and jaw-clenching can accumulate to the point where your teeth and jaw are compromised. Tooth decay that stems from plaque build-up or improper brushing and flossing can cause gingivitis, a condition in which your gums could recess from your teeth. And even people who have enjoyed good dental health in their youth can find themselves faced with increased risk for issues in the form of acid reflux or other common age-related conditions.
What to expect at your first visit
Your first meeting with a skilled prosthodontist (cosmetic dentist) will consist of a thorough evaluation of your needs.
You'll be consulted at every stage of the diagnosis to ensure you're comfortable with the full mouth reconstruction procedures and familiar with the healing process. Your family members are also part of your healthcare team, advised on the proper ways to help you recover.
Trust the proven team
The goal of full mouth reconstruction is to eliminate pain, enhance overall health, and deliver a better quality of life. Dr. John C. Stone and his Ft. Lauderdale staff have a combined 30+ years of experience providing oral surgery and follow-up care to generations of area families. Their onsite laboratory ensures that you receive the most immediate and effective implants quickly.
Contact Dr. Stone for a consultation and discover whether full mouth reconstruction is the answer for you.
Contact us if you have a question or to
schedule your complimentary consultation!