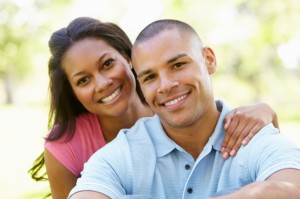 The Anatomy of a Dental Implant
Dental Implants are one of the greatest advances in modern dentistry. Implants can be done in a day, depending on:
The health of the patient
The integrity of the bone
The health of the gums
Dental Implants, to replace a single tooth or many teeth, are made up of three parts:
A Post that is placed into the jawbone to anchor the missing tooth or teeth
A Dental Prosthetic, such as a crown, bridge or denture to replace the missing tooth or teeth
An abutment, which is attached to the post to hold the dental prosthetic
An x-ray or CT Scan is the first step, to determine where the post , or posts, will be placed.
A crown or denture is made to replace the missing tooth or teeth.
The patient is anesthetized.
If the implant is to replace a broken tooth, the tooth is extracted.
The  post is placed into the bone.
The abutment is placed onto the post.
The crown, bridge or denture, is placed onto the abutment.
Only one post is needed to hold a single implant, but two or more posts are needed to hold a bridge or denture.
One Day Dental Implants
The process, from x-ray to implant can be done in a day, but, as with any surgical procedure, more than one visit is necessary and, depending on the circumstances, one day dental implants may be only a temporary solution.
One Day Dental Implants are often done with a crown that can be removed by the dentist, but not by the patient, with an acrylic prosthesis, rather than the conventional porcelain. An advantage to this method, is that a patient leaves the office with a beautiful new tooth, or teeth, rather than having to wear a denture while waiting for the bone to heal around the post, which can take several months. It is the body's ability to form new bone to anchor the post, a process called osseointegration, that can determine the success of the implant.

Follow-up appointments are necessary, so that the Dr. Stone can evaluate the success of the implant and make any necessary adjustments. Acrylic teeth look good and can last many years, but they can also be replaced with the more conventional porcelain prosthetic. That is just one of the decisions that patient and dentist make together.
Dr. Stone teaches implant dentistry to other dentists. He and his staff will be happy to answer any questions you have about dental implants.
We have an Onsite Laboratory, so that most of the process can be done in our office.
I am happy to recommend Dr. Stone. He is the best dentist of many I have endured. He is honest, wise, charming, his advice is always thoughtful and right. My implants are wonderful!"
-Marion G. Wells, August 10, 2014

References:
Dental Implants: What You Need to Know http://www.clearchoice.com/posts/201306/dental_implants_what_you_need_know
Implant Dentistry: The Need for Speed http://thedentalinsider.com/implant_dentistry.php
Dental Implant Center All-On-4/Teeth in a Day Presentation http://www.slideshare.net/dentalimplantsnv/golpa-dental-implant-center-allon4-teethin1day-presentation
Dental Implant http://en.wikipedia.org/wiki/Dental_implant