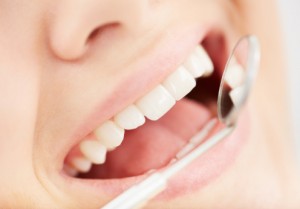 A damaged tooth can be restored, and made to look healthy and natural, by placing a crown over the tooth. While a permanent dental crown is being made, it may be necessary to have a Temporary Crown (or cap) put in place.
A Temporary Crown:
protects the tooth while a permanent crown is being made.
prevents air from causing nerve pain to the damaged tooth.
keeps surrounding teeth from drifting so that the permanent crown fits perfectly.
creates an esthetically pleasing smile until the permanent crown is in place.
How is a Temporary Crown Placed?
The area around the damaged tooth is prepared for placement of the crown.
A mold is made and the crown is constructed from resin or acrylic.
The Temporary Crown is put into place with a cement the can be easily removed by the dentist.
How to Care for A Temporary Crown
The cement that holds the Temporary Crown takes about 30 minutes to set, so it's advisable to not eat or drink for 30 minutes after placement.
Avoid foods that are sticky, like gum and hard candy, because they can stick to the crown and loosen it, or pull it out altogether.
Keep the area around the Temporary Crown as clean as possible. Brushing and flossing gently around the area is recommended.
If the Temporary Crowns becomes loose or falls out, it's important to call Dr. Stone and request an appointment as soon as possible. Learn more about what to what to do if you have a cracked dental crown or common dental crown problems here.
Dental Crowns in Our Office
There are times when a Permanent Crown can be placed on a damaged tooth, without having to have a Temporary Crown placed first. Each individual case is different, of course. The process begins with an assessment by Dr. Stone to ensure the best care and treatment.
Our laboratory is onsite, which means that we can make perfect crowns as quickly and esthetically pleasing as possible. If you are interested in Ft. Lauderdale dental crowns and want more information, please contact us to request an appointment and set up your free consultation.
About Dr. John C. Stone, DDS
Dr. Stone teaches dental implant therapy to dentists in two different locations: Atlantic Coast Dental Research Clinic at Palm Beach College and Broward Dental Research Clinic at Broward College.  He is a specialist in tooth replacement, a Prosthodontist, and has been placing dental implants surgically since 1975.
Contact us if you have a question or to
schedule your complimentary consultation!