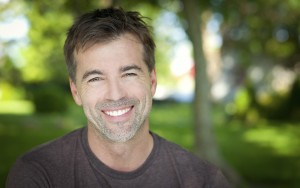 For patients who have lost, or will lose, all of their teeth, a Fixed Hybrid Implant Restoration may be recommended as a healthy and beautiful way to get a great smile.
Fixed Hybrid Implant Restoration is also known as:
a fixed prothesis
a fixed denture
Fixed Hybrid Implant Restoration are dentures that are a complete set of teeth, (upper, lower or both), that fit onto the gums and are securely anchored to the jaw.
Ordinary Dentures:
slip and slide, affecting chewing and speech
cover the palate, blocking the sensations of taste and temperature
do not allow free range of motion of the jaw and gums, which can lead to bone loss and ill-fitting dentures
must be removed for cleaning
can cause discomfort if not fit properly
Fixed Dentures:
are secured in place and can only be removed by a dentist
move with the natural motion of the jaw
enhance chewing, tasting and speech
look and feel like natural teeth
How Fixed Hybrid Implant Restoration is Done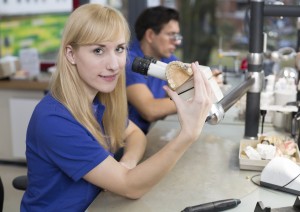 The process for placing Fixed Dentures is basically the same if they are made to replace a complete set of upper teeth, lower teeth or both upper and lower teeth.
The process is similar to placing an individual implant, except that the entire upper or lower denture is put in place using only two implant screws.

This is the basic procedure:
An examination is done and an x-ray taken, to make sure that the mouth is healthy and to confirm placement of the implant screws.
An impression is taken, so that the new dentures will be a perfect fit.
The implant screws are put into place and temporary dentures fit onto the screws. This is usually done after the patient is given  an I.V. anesthetic. (Even if teeth need to be removed, the temporary dentures can usually be placed on the same day.)
The dentures are checked for comfort and esthetics and the patient leaves with a set of new teeth.
The dentist will ask the patient to return for follow-up visits, to make sure that the dentures are fitting well while the gums heal. This usually takes several months.
After healing, the permanent dentures are put into place and checked to make sure that they are functioning well and look wonderful.
Having a Fixed Hybrid Implant Restoration Done with Confidence
Placing a fixed prosthesis takes skill and precision. Dr. Stone is a trained Prosthodontist, with more than 30 years of experience, specializing in cosmetic dentistry and implants.
About Dr. John C. Stone, DDS
Dr. Stone teaches dental implant therapy to dentists in two different locations: Atlantic Coast Dental Research Clinic at Palm Beach College and Broward Dental Research Clinic at Broward College.  He is a specialist in tooth replacement, a Prosthodontist, and has been placing dental implants surgically since 1975.