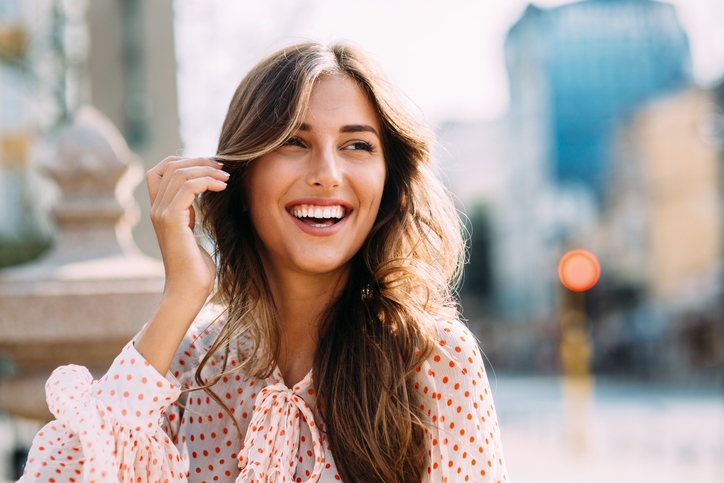 In the 1960's when dental implants were first developed, they were a groundbreaking new technology in the world of dentistry. More than five decades later, dental implants are still the best tooth replacement option available, and with a wider variety of types of dental implants to choose from, there's sure to be an option that suits your personal needs perfectly.
Dental Implants Benefits and Success Rate
Dental implants are like a whole new replacement tooth inserted into your jaw bone tissue. That means your dental implant will have a tooth crown as well as a root. The first, most obvious benefit of dental implants is that having an implant is a lot like having your natural tooth – the only exception being that an implant won't have a nerve like a real tooth (meaning it won't be sensitive to hot or cold).
Some of the best benefits of dental implants include:
Patients with implants can chew normally
Implants can be cleaned with regular brushing
The implant peg supports bone growth in the jaw
The procedure has a success rate between 97-99%
Successfully placed dental implants often last a lifetime
Remember, while a 97-99% success rate might not sound high to many people, it's a very high figure compared to other common medical procedures. For comparison, here are the estimated success rates of other procedures you might have already undergone:
 Appendectomy: 99%
Cataract surgery: 98% or higher
Cholecystectomy (gal bladder removal): 95%
Coronary bypass: 98%
What should be clear is that getting dental implants is just as safe as undergoing most normal surgical procedures, with the exception being that the dental implants procedure isn't as invasive as many other surgeries. For the best chance at a successful result when getting dental implants, however, it's good to see a dental implant specialist.
Dental Implants: Titanium vs Zirconium
Traditionally, dental implants are made with titanium alloys. This is because titanium has special properties that help the implants fuse to the bone through a process called osseointegration. Up until rather recently, anyone who wished to get dental implants had to opt for a titanium dental implant post.
Titanium is still a good, dependable option for anyone wishing to get dental implants. However, some patients may prefer zirconium. Zirconium is mostly used in cases where patients are concerned about metal allergies or sensitivities.
When it comes down to choosing between titanium and zirconium, titanium still proves to be the best all-around option. That's because titanium is more versatile and can often be used in cases where zirconium would be difficult 9or perhaps even impossible) to use.
Nevertheless, patients who prefer zirconium implants can feel free to discuss any possible limitations of these implants with their dentist.
Types of Dental Implants
When choosing between different types of dental implants, there isn't much choice regarding what material you'd prefer. Most dental implant options are available only in titanium. With that in mind, you can still ask your dentist about zirconium options, if that's what you prefer.
Traditional Dental Implants
Traditional dental implants replace a single tooth. With this option, a single implant post supports one tooth crown. This option is best for patients who need to replace a single bad tooth, but still have healthy jaw bone.
Mini Dental Implants
Mini dental implants are good for patients who don't have enough bone density in the jaw to support regular implants. They also tend to be cheaper than traditional implants, making them a good option for patients who can't afford traditional implants. Although mini dental implants prove to be a successful dental implant alternative, they haven't been in use as long as traditional implants have, meaning dentists aren't sure how long they can last yet.
All-on-4 Dental Implant
All-on-4 dental implants are much like traditional dental implants, but instead of replacing one tooth, they're designed to replace a full arch of teeth. This makes all-on-4 dental implants the ideal alternative to getting dentures. Another benefit if all-on-4 implants is that they're specially placed in areas of the jaw that tend to have a higher bone density, so they're still an option for patients with a somewhat lower bone density in the jaw.
To choose the right type of dental implant isn't always easy, that's why it's good to visit a dental implant specialist for advice and guidance. If you're considering dental implants, but aren't sure what option is best for you, feel free to call Dr. Stone's practice. Dr. Stone is a dental implant specialist with over 20 years' experience in placing dental implants.