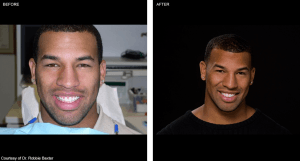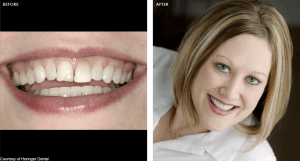 DaVinci veneers are high quality, hand-crafted porcelain veneers. They are created at a special lab in California, which has been crafting veneers for Hollywood stars for more than 30 years.
What make daVinci Veneers so special?
Using the highest quality materials, the finest artisans in the industry produce ultra-thin porcelain veneers that have a natural radiance. Used throughout the world, these veneers fit precisely color match perfectly.
They've received wide public recognition when used on the television shows Extreme Makeover and The Swan with incredibly beautiful results.
How can daVinci Veneers help Improve Your Smile?
Our natural teeth are strong and resilient but they have their limits, especially as we age. daVinci Veneers are resistant to coffee, tea and cigarette stains, and are an excellent solution for repairing:
Chipped teeth
Discolored teeth
Gaps in teeth
Misshapen teeth
They are also a permanent restoration. If they do chip or break due to trauma or excessive force on the veneer, your dentist can replace them.
What is the process for placing daVinci Veneers?
Assessment – You and Dr. Stone will discuss your wishes and expectations. He will assess the health of your teeth and gums. Together, you will come up with a treatment plan for the best results.
Preparation – Your dentist will prepare your teeth for your new veneers. A thin layer, less than a millimeter, is removed from your tooth and the surface is prepared for the veneers. The lab will make a mold of your teeth and you'll wear temporary veneers while they craft your daVinci veneers.
When your veneers are ready, Dr. Stone will put them in place and make sure that they are a perfect fit. The final step is bonding your veneers with a special cement that hardens with a visible light beam.
How to get started
Dr. Stone has the training and certification to place daVinci Veneers. Contact us and make an appointment for an assessment. We'll get you on the way to the smile you've always wanted.
Contact us if you have a question or to
schedule your complimentary consultation!