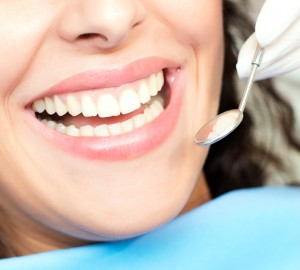 What are Periodic Oral Evaluations?
Whenever you have oral evaluations, your dentist looks into your mouth to assess the health of your teeth, gums, tongue, and jaw.
Here's what your dentist is looking for:
Signs of decay in teeth
Lumps, bumps, or abrasions that might indicate signs of cancer
Bone loss
Gum health
Healthy bite
Bone structure
Signs of bruising that might indicate abuse
Part of the Periodic Oral Evaluation is a Periodontal Exam, when your dentist looks at your gums for:
Sings of infection
Signs of oral cancer
Loose teeth
The depth of the space between you tooth and gum
Your gums should attach firmly to your teeth. If they are not firmly attached, pockets can form and lead to gingivitis, which is a mild form of gum disease. If not treated, gingivitis can become a more serious gum infection called Periodontitis. Periodontitis is a serious infection that can destroy the tissue and bone that supports the teeth and cause tooth loss. Periodontitis can also lead to an increased risk of heart attack or stroke.
When should you have Periodic Oral Evaluations?
The only way you will know how often to have a Periodic Oral Evaluation is to have an initial evaluation. Your dentist can assess your needs for maintaining good oral health. Once your dentist gets to know the condition of your mouth, how effective your oral hygiene is at home and if you are dealing with any risks factors, you and your dentist can decide on the frequency of your visits.
Why should you have Periodic Oral Evaluations?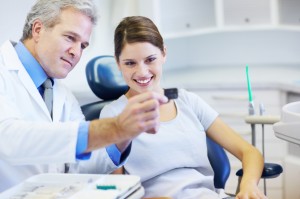 Many of the problems that the dentist looks for at a Periodic Dental Evaluation and Periodontal Exam are preventable.
A Periodic Dental Exam is a good way for you and your dentist to evaluate your oral health and focus on the areas that may need some work. Brushing and flossing at home are good measures to take to prevent gingivitis and other oral health problems. Your dentist can help make sure that the regime your are practicing at home is as effective as possible.
Your doctor will also recommend at least twice a year having exams and cleanings in the office to ensure good health. High risk patients might need more frequent visits than those requiring only twice-a-year visits.
High risk factors include:
Gum disease
Cavities
Diabetes
Smoking
Plaque build-up
Weaker immune systems that are susceptible to bacterial infection
Contact us for an Oral Evaluation
Dr. Stone believes that people should be able to keep their teeth for their entire lives. Learning to care for your teeth at home and getting Periodic Oral Evaluations is the key to good oral health.
Patient education is an important part of helping our patients maintain healthy teeth and gums. Check out Tips for Toothcare and Cleaning & Regular Checkups on our website.
Contact us if you have a question or to
schedule your complimentary consultation!