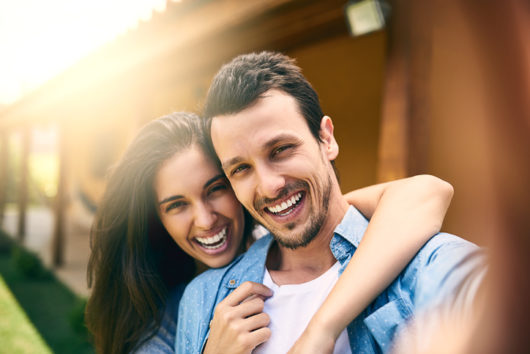 Chipped, cracked, and discolored teeth, among other issues, were once exclusively age-related conditions. In many situations, that's still the case. The more wear and tear a mouth endures, the more likely these problems become.
But for various reasons, mostly poor oral hygiene and tooth trauma, many millennials have these same problems. In fact, over a quarter of millennials say their tooth issues prevent them from enjoying life to the fullest.
Very often, porcelain veneers successfully address these problems. The as-seen-on-TV daVinci porcelain veneers are especially popular. Since the 1980s, the daVinci Dental Studios in Beverly Hills have made porcelain veneers for TV stars. Back in the day, this laboratory introduced porcelain veneers to the west coast. Today, leading industry artisans use better-than-average materials to craft daVinci porcelain veneers. Only the top 2 percent of Fort Lauderdale dentists are daVinci certified. And Dr. Stone is one of them.
How daVinci Porcelain Veneers Improve Your Smile
All porcelain veneers are a little like dental crowns. But whereas crowns repair damaged teeth, veneers are almost entirely aesthetic. But don't let the "aesthetic" label mislead you. Confidence is pretty much everything in both business and personal relationships. If your smile is off by even a little, your edge is gone.
The artistic beauty and structural integrity of daVinci porcelain veneers make them uniquely suited to cover problems like:
Gaps between teeth,
Chipped teeth,
Discolored teeth, and
Misshapen teeth.
In many cases, daVinci porcelain veneers are also much longer-lasting than other kinds of veneers. They are also a little more expensive than other brands, but the results are well worth the additional investment. Like my grandfather said, you get what you pay for.
The Placement Process
Every prosthodontic procedure we perform begins with an assessment. Dr. Stone examines your mouth and then reviews the pros and cons of all your options. We generally recommend the least-invasive procedure possible, and that often means porcelain veneers.
Next, Dr. Stone prepares your teeth for your new daVinci porcelain veneers. To properly fit your veneers, Dr. Stone removes a tiny bit of tooth enamel. The veneers then serve as your new and dramatically improved outer enamel layer. You'll wear temporary veneers until your permanent ones are ready. Finally, Dr. Stone uses a specialized cement to mount your customized daVinci porcelain veneers and hold them in place.
Dental veneers are perhaps the easiest and most cost-effective way to improve your smile. And many people think that daVinci porcelain veneers are the best ones available. To see what a difference Dr. John Stone can make for you, make your initial appointment with Best Dental Associates today.

Sources:
https://www.forbes.com/sites/dianahembree/2017/03/28/why-some-millennials-arent-smiling-bad-teeth-hinder-28-in-job-search/#65ffc5b259c6