Can a Ft. Lauderdale Dentist Give Me New Teeth in a Day?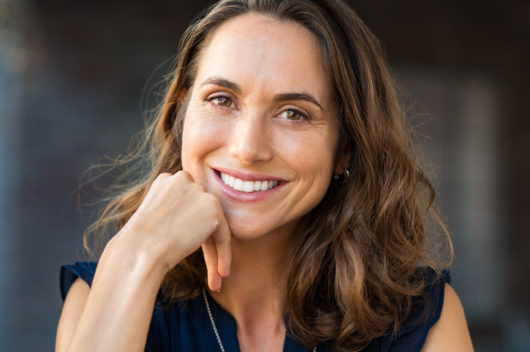 Dental veneers are one of the oldest cosmetic dentistry services, and possibly one of the most controversial ones.
Temporary dental veneers first appeared in the 1920s. Hollywood dentist used them as makeshift teeth-whiteners for film actors. They worked so well that many other people began asking "what are veneers?" By the 1950s, dentists had substantially improved the process and made it available for many other people. The techniques which Dr. Stone uses in his Ft. Lauderdale office today have not changed much since then.
Because of their popularity, some dentists are concerned about overuse. They point out that there is a small but significant chance of tooth damage. That's especially true if the patient is fairly young and has fairly healthy teeth with only slight superficial flaws.
So, it's important to carefully consider all the pros, cons, and other options when you think about what are veneers.
Dental Veneer Pros
Veneers are essentially porcelain teeth covers that greatly enhance your smile. They make it look fuller and brighter. Moreover, the effect is very realistic. Dr. Stone carefully crafts dental veneers, so they mimic your natural teeth as much as possible. DaVinci veneers are the highest quality, hand-crafted porcelain veneers we use.
That's one of the biggest advantages. Additionally, today's dental veneers are very long-lasting. They typically last at least fifteen years before they need replacing. In many cases, they last a lot longer than that. During all these years, they are easy to maintain. Like porcelain dishes, they may become stained. Also, like porcelain dishes, they are fairly easy to polish.
Finally, dental veneers are one of the most minimally-invasive cosmetic dental procedures. Dr. Stone only needs to shave off a portion of your teeth to fit them. In many cases, dental veneers also straighten your teeth. May of our patients believe that Dr. Stone is the best veneer dentist there is.
What are the Cons of Dental Veneers?
The process is a bit time-consuming. Typically, Dr. Stone needs at least three visits to complete the process. After the extensive consultation, there's a second visit to prepare the tooth's surface and a third one to place the veneer.
Secondly, although they have some teeth-straightening ability, dental veneers are almost completely cosmetic. So, some dental insurance companies will not pay for them. On a similar note, dental veneers cannot be repaired if they get cracked or chipped. They must be replaced. Learn more about the cost of dental veneers here.
Alternatives to Dental Veneers
Veneers are also ideal for middle age or older patients who are no longer happy with their smiles. These covers do not turn back the clock, but they do the next best thing. They restore the look you used to have.
That's a very narrow category of people. For slight flaws and discoloration, Dr. Stone often recommends teeth whitening. This procedure is even more minimally-invasive than veneers, is highly effective, and long lasting.
Veneers may not be a good option for people which cracked or chipped teeth. Mini-dental implants may be a better idea in these cases. Like teeth whitening, mini implants were unheard of twenty years ago and were still rather crude ten years ago. Today, they produce amazing results.
Salespeople and other professionals rely on a full, bright smile. If time has changed your teeth, you need answers to questions like "What are veneers?" To get these answers, and find out if veneers are right for you, reach out to Dr. John Stone at Best Dental Associates in Ft. Lauderdale today.

References:
medicalxpress.com/news/2011-07-dentists-widespread-porcelain-crowns-veneers.html