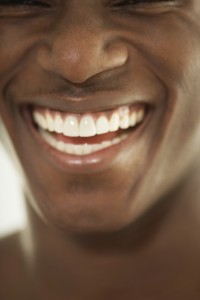 In much the same way that your skin closes to heal a wound, or a broken bone mends while in a cast, a tooth implant (also known as a dental implant) allows your own bone to grow around the post of the implant to create a new tooth that feels and acts like a natural tooth. This process is called osseointegration. Because of this natural healing process, anyone who is reasonably healthy is a candidate for dental implants.
The Advantages of Tooth Implants
1. Dental Implants help prevent bone loss
You might notice that the cheeks and jaws of people who have lost teeth appear to "sink" and crumble inward. This sunken appearance is a result of bone loss. Bone loss occurs when a tooth is lost. Regular dentures, that rest on the gums, don't prevent bone loss.
Implants that are placed into the bone, to replace the root of the missing tooth, stimulate bone growth.
2. Dental Implants have a very high success rate
If you were going to bet on something, you'd want it to have great odds. Tooth implants have a 93-98% success rate… and those are great odds. Problems that can occur, although infrequently, such as infection or cosmetic imperfections, are treatable and correctable.
3. Dental Implants last many years
Unlike dentures that have to be removed, that can slip and make eating and speech difficult, dental implants are permanent and act like regular teeth. Implants can be used to to anchor bridges, that have an advantage over regular dentures, because they don't slip and slide.
4. Dental Implants are comfortable
There's no slipping or sliding with dental implants, as there can be with dentures. Dental implants are cared for in the same way that you care for your natural teeth… and you don't have to take them out at night.
5. Dental Implants Help Improve Self Esteem
Each dental implant is custom made, so it looks as good, or better, than the tooth it replaces. Dental implants act as a 'placeholder' so that neighboring teeth stay in position and don't shift around your mouth.


Dental Implants In a Day
Some dental clinics advertise, "Teeth in a Day." You can walk out of the dentist's office with an implant in a day, but that's not quite the whole story…
The process goes something like this:
• An initial consultation must be done to make sure that your health is good, x-rays need to be taken to determine placement of the implant and impressions must be made to construct the crown that fits on to the implant.
• The actual implant that goes into the jaw bone is carefully placed. It is usually made of titanium.
• An abutment is screwed into the implant, over which the tooth will be placed.
• The tooth, also called a restoration is secured to the abutment.
A temporary crown can be placed on the same day that the implant is put into the jaw (Teeth in a Day), but the body needs time for ossification to occur, so that the implant is secure. This usually takes several months. When your prosthodondist is satisfied that the implant is secure, the permanent tooth is placed onto the abutment.
Tooth Implants With Care
Placing dental implants takes expertise and artistry. Dr. Stone is an expert in dental implant therapy and teaches other dentists implant technique. Our Onsite Laboratory makes the process easier and ensures the most aesthetically perfect implant possible.
Make an Appointment for a complimentary consultation, to get more information about dental implants.
About Dr. John C. Stone, DDS
Dr. Stone teaches dental implant therapy to dentists in two different locations: Atlantic Coast Dental Research Clinic at Palm Beach College and Broward Dental Research Clinic at Broward College.  He is a specialist in tooth replacement, a Prosthodontist, and has been placing dental implants surgically since 1991.

References:
Dental Implant http://en.wikipedia.org/wiki/Dental_implant
History of Dental Implants https://dentalimplants.com/history-of-dental-implants.php
Dental Implants http://www.aacd.com/index.php?module=cms&page=569
Dental Implants http://www.webmd.com/oral-health/guide/dental-implants
Advantages and Disadvantages of Dental Implants http://www.osseo.org/NEWadvantages&disadvantages.html
Single-Tooth Implants http://www.colgate.com/app/CP/US/EN/OC/Information/Articles/Oral-and-Dental-Health-at-Any-Age/Seniors/Dentures-and-Dental-Implants/article/Single-Tooth-Implants.cvsp