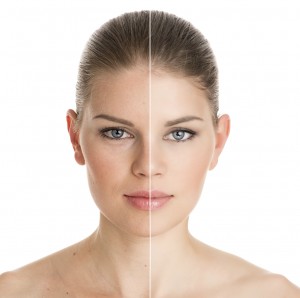 Cosmetic dentists, like Dr. Stone, focus on how teeth and bone structure affect appearance, and also on how the construct of the skin affects the appearance of the face. Facial Rejuvenation products and procedures restore the youthful appearance of the face by reducing lines and wrinkles.
Botox®
Botox® is the best known facial rejuvenator. Botox works to relax the muscles that form lines on the face, like the"frown lines" across the forehead and the lines between the eyebrows. Many lines on the face created by the repeated movement of our facial muscles and they gradually deepen over time. As the muscles relax, the lines they created relax as well.
Botox® results are usually seen within 3-5 days of treatment. The results last for about six months. Botox® can also be used in conjunction with other treatments, like Dermal Fillers. See our Botox® Specials here.
Dysport®
Dysport® is similar to Botox, and is used to treat moderate to severe frown lines between the eyebrows.
Dermal Fillers
Dermal Fillers are injectable materials that can "plump up" areas of the face that are wrinkled or scarred. Instead of relaxing the lines that form a wrinkle, like Botox does, Dermal Fillers fill in the space between the lines to create the smooth appearance that the skin had before the wrinkles appeared.
The injection of a Dermal Filler into the skin is much less invasive than a surgical face lift. Dermal Fillers are sometimes called Liquid Face Lifts because they provide the benefits of a facelift without the discomfort and healing time that occurs with surgery.
Restylane®
Restylane® is a dermal filler, made of hyaluronic acid. All human beings have hyaluronic acid in their skin, which helps to repair tissue damage.
As we get older the amount and chemical structure of our hyaluronic acid changes and we no longer have the smooth, baby skin that we were born with.
Restylane® is used to treat moderate to severe folds and wrinkles, like those around the mouth, crow's feet around the eyes and frown lines on the forehead. It is also used for lip enhancement. A treatment with Restylane® lasts about 6-12 months.
Perlane®
Perlane® is formulated in much the same way as Restylane®, but is used for more severe wrinkles or folds. Like Restylane®, Perlane® breaks down naturally, like your own hyaluronic acid.
Juvederm®
Juvederm is another dermal filler, made of hyaluronic acid, used to correct moderate to severe facial wrinkles and folds. Juvederm is not recommended for use in lip augmentation.
Treatment with Juvederm®, is long lasting. It's results can last anywhere from 6 months to a year.
Choosing the Right Treatment
Dr. Stone combines technical skill and artistry to create a look that is youthful and natural. Dr. Stone, or one of our treatment specialists, will be glad to discuss the treatment options that are best for you.
Contact Us for a complimentary consultation.
Contact us if you have a question or to
schedule your complimentary consultation!
About Dr. John C. Stone, DDS
Dr. Stone teaches dental implant therapy to dentists in two different locations: Atlantic Coast Dental Research Clinic at Palm Beach College and Broward Dental Research Clinic at Broward College.  He is a specialist in tooth replacement, a Prosthodontist, and has been placing dental implants surgically since 1991.
References:
Facial Rejuvenation http://en.wikipedia.org/wiki/Facial_rejuvenation
Botox or Dermal Filler http://www.liquidfacelift.com/Botox_or_dermal_filler.asp
Botox http://www.nlm.nih.gov/medlineplus/botox.html
DYSPORT http://www.dysportusa.com
Restylane http://restylaneusa.com/What-is-Restylane
Hyaluronan http://en.wikipedia.org/wiki/Hyaluronan
Juvederm http://www.drugs.com/juvederm.html
Robert S Bader, MD, et al Dermal Fillers http://emedicine.medscape.com/article/1125066-overview#aw2aab6b4