What Makes Dental Implant Specialists So Special?
Dental Implant Specialists are dentists with training beyond their four years of dental school.
After a dentist gets a Doctor of Dental Surgery (DDS) or Doctor of Dental Medicine (DMD) degree, they may go on to get advanced training as a Prosthodontist, Periodontist or Oral and Maxillofacial surgeon. All of these surgical specialties place dental implants but only Prosthodontists place and restore the implants.
Our philosophy is to provide the highest quality of care possible in a caring environment."
— Dr. Stone, DDS
Prosthodontics is one of the nine specialties recognized by the American Dental Association. To be a Board Certified Prosthodontist, a dentist must pass a rigorous four-part examination conducted by the American Board of Prosthodontics and must be re-certified every eight years.
A Prosthodontist specializes in all aspects of cosmetic dentistry, including restoring missing teeth and dealing with the structure of the face and jaw. Prosthodontists have the special technical and esthetic skills to create dental implants that look good, feel good and enhance oral and overall health.

What to Look for In a Dental Implant Specialist
Not every dentist has the technical skill or equipment required to place dental implants. It's important with work with someone you can trust and who will support you through the entire process.
Dental Implants do more than just fill a gap in your mouth. They help prevent bone loss, aid in your ability to chew and maintain nutrition and help maintain a youthful appearance.
There are a lot of ads on the internet for "Teeth in a Day," and you don't have to leave a dental office with missing teeth, but, the reality is, that the Dental Implant process takes more than a day and requires follow-up care to ensure that the implant is a perfect fit. For more information about the procedure, check out Dental Implants 101 in our Blog.
When choosing a Dental Implant Specialist, look for a prosthodontist who:
is board certified by the American College of Prosthodontists, or at least has a certificate in Prosthodontics that he or she has completed the advanced training.
has expertise and experience in placing dental implants
is willing to answer questions and discuss options
works in a calm and clean environment
has the latest technical skills and equipment
discusses cost, including x-rays and any additional treatment that may be needed
has a welcoming staff
works closely with a lab to ensure perfect fit and esthetics of replacement tooth
Choosing Dr. Stone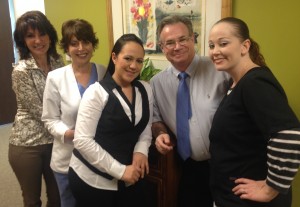 Dr. Stone's philosophy is, "To provide the highest quality of care possible in a caring environment." He is a Prosthodontist, who not only has over thirty years of experience, but also teaches Dental Implant Technique to other dentists.
He has put together an expert and caring staff which he calls his associates and works closely with his Onsite Laboratory staff to get the best dental implants possible.
Contact Us to schedule a free consultation.
About Dr. John C. Stone, DDS
Dr. Stone is a Prosthodondist, with over 30 years of experience. He teaches dental implant therapy to dentists in two different locations: Atlantic Coast Dental Research Clinic at Palm Beach College and Broward Dental Research Clinic at Broward College.  He is a specialist in tooth replacement and has been placing dental implants surgically since 1991.