I'm sorry to break it to you, but almost every tooth or dental appliance in your mouth will most likely give out one day, so it isn't too surprising that your tooth cap is broken. The shelf life for a cap, or crown, is between five and fifteen years, so time might have just caught up with you.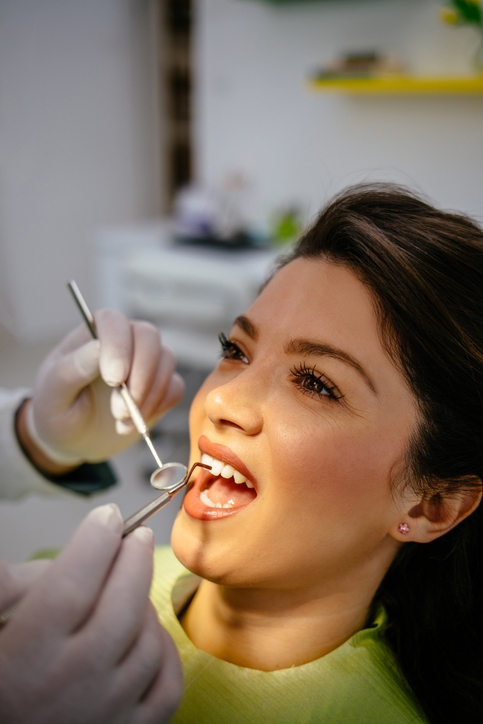 Be careful if the break has caused any jagged edges, and if there's any discomfort, feel free to take an over-the-counter pain medication to help until you can make an appointment. Otherwise, schedule that appointment quickly. There are sometimes complications if the pulp of your tooth is exposed. It's best to be careful and solve these problems as quickly as your calendar allows.
My tooth is bleeding
If you do notice extreme sensitivity in the area where the cap broke or if you notice any bleeding, you should contact your dentist immediately. At the end of the day, you should talk to a professional and not rely only on any other reference, however accurate it may be.
You can find reliable information online if you know where to look, especially if you're on a prosthodontist's website, but especially in dental work, every case is unique. If you're at all uncertain about what to do, call your dentist.
At Dr. Stone's, we keep open times in our day for patients who have emergency needs. Call us at 954–568–9100 if you need to talk to someone right now. We can help ease your fears. We've seen almost everything over the last 30 years; so don't wait another minute worrying. We're just a phone call away.
What you should do before heading to the dentist
When you notice the crack or break, check to see how loose the cap is. If it's loose enough to take it entirely off, do so. You definitely don't want it falling off when you aren't thinking and then accidentally swallowing it.
Crowns are made from a couple of different materials, and depending on the kind you have, there will be different procedures and costs for fixing the break. Hold onto any pieces that fell out, and be careful with the remaining tooth.
Often the solution is simply to reshape the cap and place it back on top of the damaged tooth. We know there are many ways that your cap can break, but if you do know how it happened, stay away from that activity.
What will this cost me?
The cost for repairs will be heavily dependent on the material used to form your crown: porcelain fused to metal, all metal, or all porcelain. The good news is that crowns are almost always covered with dental insurance, and even in the cases where it isn't, there are other options to put the payments on a timeline that works with your budget.
If your cap broke, then you need to figure out a solution, and the only way you'll have a real estimate is by talking to the person who will perform the procedure.
Talk to a prosthodontist
If it isn't an emergency, it's easy to schedule an appointment online. Come in and begin the conversation. Oftentimes, fixing a crown is a simple procedure and all that's needed is a little repair and for it to be placed back on top of the tooth.
If you didn't originally get your crown placed by a prosthodontist, maybe this is a sign that this time you need to get the right person for the job. Prosthodontists have three more years of education over your family dentist, and their full-time job is to create and place crowns, bridges, veneers, dentures, and implants. Make your health a priority, and don't settle for anyone but the best.
At Dr. Stone's practice, we offer complimentary consultations to new and prospective patients. The information you need to make this decision should be free, and it shouldn't cost you a dollar to get an estimate. We won't charge you to come in and talk through your options. Dr. Stone would love to help you figure out what's your right decision. Schedule your appointment today.